INTRODUCTION.
Is the age of your current boiler more than 25 year old?

Does your current boiler take more than 30 minutes to fire up after shutdown due to power outages?

Do you have a boiler constantly on standby mode and not producing any steam?

Do you face difficulties obtaining replacement parts for your boiler?

Do you experience fluctuating steam demand in your manufacturing process?

Does your boiler take too long to fire up causing interuption to your production schedule?
If you answer YES, to most of the questions above, chances are, you may be in need of replacing your current boiler, or may consider adding a new high efficiency steam generator as backup to your existing boiler system.
The second question you may consider is to replace your current boiler with a conventional fire tube boiler or a steam generator?
WHAT IS A CONVENTIONAL FIRE TUBE BOILER & STEAM GENERATOR?
The principle in the fire-tube steam boilers, is that from the surface of a large volume of feed water, steam is evaporated. This boiling process is heated by the wall of the combustion chamber (the radiant part) and by the exhaust gasses passing through a bundle of so-called fire-tubes or smoke-tubes forming the the convection part of the boiler.
In the steam generator boiler the operation is quite different. The feed water and steam are in the principle passing through one long tube - designed as a number of winded-up tube coils that are being serially connected.
In this long tube of tube coil assembly the feed water is heated up to the evaporation temperature in the first part of the tube coil and then evaporated in the second part. The intensity of the heat, the feed water flow and the size/length of the tube are adapted, so that the water is just about being fully evaporated at the exit of the tube. This ensures a total very small water and steam volume i.e. content of the pressure vessel. Thus there are no extra volume of water at boiling point forming an evaporation buffer in a steam generator, and is the steam generator temporary overloaded beyond its nominal steam capacity, it will gives a operation failure due and alarm for high steam temperature (superheated steam).
As the sole distributor for CERTIUSS Steam generators in Thailand and Malaysia, and partner in Indonesia, we are committed to deliver the highest quality product and supporting it with extensive after sales service and global manufacturer warranty.
ADVANTAGES OF STEAM GENERATOR VS FIRE TUBE CONVENTIONAL BOILERS
— 3 minutes to produce steam
— Compact Design.
— 98% operating efficiency level.
— Back-up system to existing boiler.
— Placement at steam utilization point.
— Low piping installation cost.
— Simpler to operate.
— Fully automated.
— Smaller footprint requirement – versatile in limited space.
— Lower risk potential.
— Modular capability.
— Minimal & easy maintenance.
— Electronic controlled.
— Reduce carbon footprint.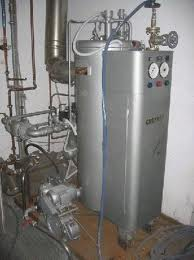 E 6 - 72 M: The new generation of the classic generator

The electric steam generators E 6 - 72 M are genuine CERTUSS steam generators. They are distinguished by their short heat-up time and their low space requirement.

They are low-loss and extremely reliable in construction proven over decades. The E 6 - 72 M convinces through immediate output adjustment, simplified operation and increased ease of maintenance.

<>

>

Universal 500-1800 SC Design Advantages

space saving installation without foundation support robust steel fabrication patented uninsulated air cooled, double coverair intake from the top creating good air circulations within the boiler-house integrated, low emission CERTUSS burner system noise and vibration reduction, anti-vibration mountings economical fast energy transfer reducing radiation losses vertical expansion free centrally suspendedheat exchanger with low position blowdown replaceable evaporation section easy and quick cleaning of the heat exchanger, without removal operation without supervision full or partial installation on request exemplary customer service and spare parts availability

The new generation of a proven series

The steam generators CERTUSS Universal 500 - 1800 TC are

characterized by the immediate modulating output adjustment

and the simplified operation.

Complete and safe

The new Universal 500 - 1800 TC series encompasses

completely equipped, ready-to-operate, electronically controlledsteam generators with all safety devices for burner technology,pressure and temperature.

An electronic combustion management with self-monitoring of

the latest generation can be programmed for all types of fuel.

The Universal 500 - 1800 TC steam generators are started vianon-seated flow controllers. Steam and waste gas temperatures are controlled through self-monitoring electronic thermostatswith approval.
Ready-to-use water supply with CERTUSS package plant unit CVE

+ All supply and water treatment components for

CERTUSS steam generators as complete unit

+ Less space required due to compact design

+ Professional installation ensures reliable and safe

operation

+ Corrosion protection by powder-coated base frame

+ Complete with electrical sub-distribution

+ Easy maintenance and access

+ Low-cost serial manufacture with

optimally-coordinated components

+ Use of approved, high quality materials

+ Reduction in costs through considerable reduction in

mounting time

+ Safe due to factory pre-installation of water, steam,

electrical and power connections

CERTUSS Water Softening Plants

Each steam boiler needs a good feed water pre-treatmentwhich contributes decisively to a long life of the steam plant, itsfunctionality and stability of value.

Water mainly contains hardening constituents in very differentsizes which inevitably cause scale deposits when vaporizing,followed by a poor heat transmission and an increasingplugging of tanks and tubes.

CERTUSS water softening plants work with the ion exchangemethod. The raw water is lead through a heavy-duty resin.

The calcium and magnesium ions are changed into sodium ionswhich are not settling down as hard deposits.

The exchange resin has physically conditioned a limited

capacity and is exhausted after a certain number of raw waterthroughputs.

Its regeneration is performed by means of a salt solution.

The softening plant is then again ready for operation

According to the plant s type, the timing of regeneration can

be selected manually or automatically, dependent on time or

quantity.

The CERTUSS water softening plants perform the

regeneration fully automatic.
Pre Sales Support
To provide a better understanding of your investment in a steam generator and how it improves your bottom line, we also provide expert Pre-Sales advisory & support for any enquiries received.
We plan with potential clients to ensure all their requirements are met, be it a customized solution or of the rack
After Sales Support
Our engineers and trained technical teams are able to support our clients to ensure total piece of mind when they invest in a Certuss Steam generator.
We maintain a sufficient stock of spare and replacement parts in our warehouse in Malaysia and can conveniently service our client's needs.
Certuss guarantees parts availability for25 years.
For more information, Please visit our principal's website at www.certuss.com
Please contact us for any enquiries.
Tel: 604-4413770,
Email : farriz@teknologam.biz
Address:
Plot 3, Kawasan Perusahaan Sungai Petani (LPK) 08000 Sg Petani